Last year when I sailed to Monterey there was no wind so the trip was nearly all motoring. This weekend was a much nicer round trip to Monterey, 100% sailing this time!
Day 1
Saturday morning was typical Santa Cruz summer gloom, heavy fog and no wind. Did not look promising. By 10am, still nothing. Around 10:30am felt a little bit of wind, not much but I wanted to go sailing and see. By the time I was out by the mile buoy ("SC") there was enough wind to sail. Just barely though, about 8 kts. I decided to try for Monterey.
The wind never really picked up today, best was around 10 kts but it was steady all day so it worked out! Beam reach on starboard tack all the way.
I arrived at Breakwater Cove Marina in Monterey at 4:30pm, having sailed 23nm in about 5h:30m for an average speed of 4.1 kts.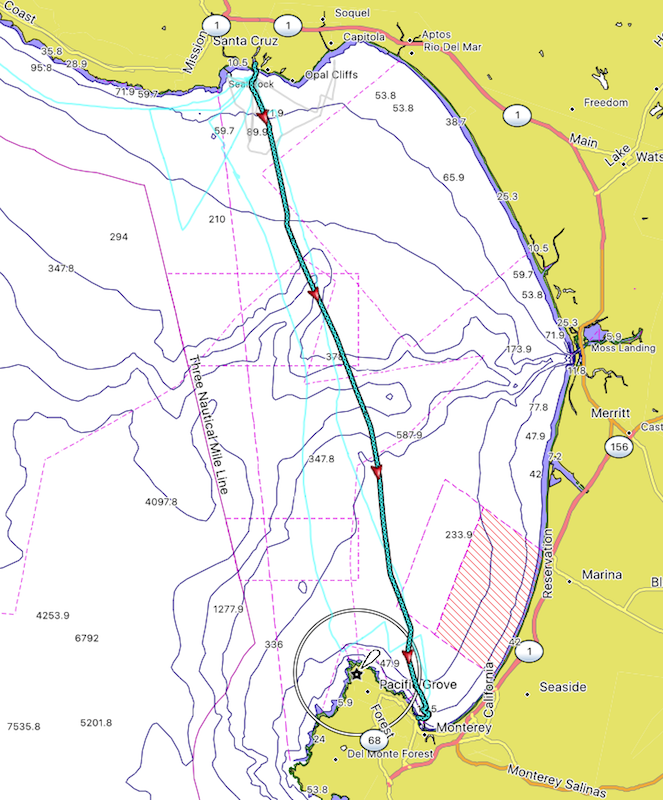 Tied up for the night at Breakwater Cove Marina: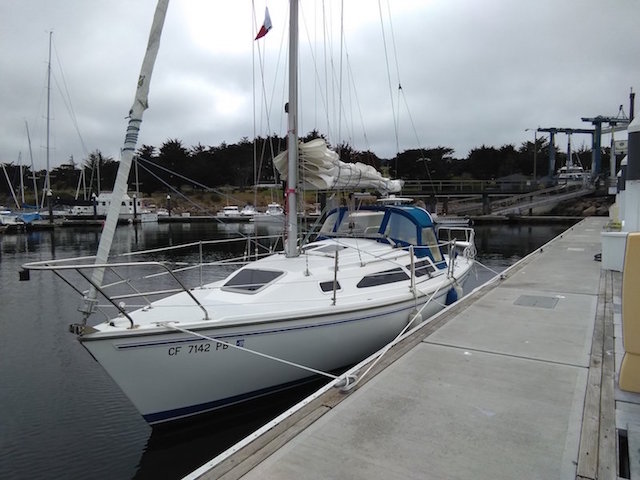 Day 2
Sunday forecast was showing 5 kts. Oh no… looks like a day of motoring.
I waited as long as possible for the fog to clear and some wind to show up, leaving at 11am. Outside the breakwater there was 7-8 kts of wind. Maybe I can try sailing? Tacking upwind this time, took a few tacks to get to the R"2″ buoy (neat Point Pinos lighthouse) and then a long port tack, close hauled all the way to Santa Cruz.
For most of the trip, wind was around 8-10kts. Enough to keep moving, at least. About 4nm miles from Santa Cruz the wind started to finally pick up. First 15 kts for a while, then up to 18. I hove to for a bit to reef the main and continued.
After going slow all day, the final few miles were a fun ride! Wind ended up increasing to 22 kts near the Point Santa Cruz lighthouse. Saw 8 kts SOG on the final stretch, surfing downwind.
Total for the day was 29 nm in 7h:30m for an average of 3.9 kts.