It was finally time this weekend to move my Catalina 270 from Alameda to my home port of Santa Cruz. We had a fun summer of sailing and weekend trips (Pier 39, Angel Island) in San Francisco Bay but I wanted to bring the boat home before winter weather (storms and bigger swell) arrives.
Joining me for the trip was Joe C. We'd raced together in the Club Nautique Bay Buoy Boogie event this summer. The trip to Santa Cruz can be done in one long a day but it is easier to break it down into two parts so I planned a stop at Half Moon Bay.
Day 1
NOAA Tidal Current Tables
San Francisco Bay Entrance (Golden Gate), Calif., 2017
#      Slack  Max Curr  Slack  Max Curr  Slack  Max Curr  Slack
----------------------------------------------------------------
29 Fr  0419  0700 1.6F  0954  1239 1.7E  1606  1752 0.8F  1936
National Weather Service Marine Forecast FZUS56 KMTR
Point Reyes To Pigeon Point To 10 nm-
FRI: NW winds 5 to 15 kt...
    increasing to 15 to 25 kt in the afternoon.
    Wind waves 3 to 5 ft. W swell 3 ft at 10 seconds.
Forecast calls for nearly flat seas and a good breeze, so it seemed (and was) a perfect day for the trip south to Half Moon Bay.
We cast off from Marina Village at 7:46am.
Seven minutes later, the diesel sputtered and stalled! Might've been an early end to the trip but fortunately after waiting a few moments, the engine restarted easily and ran strong for the rest of the trip. The way it stalled felt like an air bubble in the diesel line but unlike my old Catalina 27, the fuel system on the 270 is self-bleeding. In any case, the engine ran perfectly for about 10 hours after that so no further problems.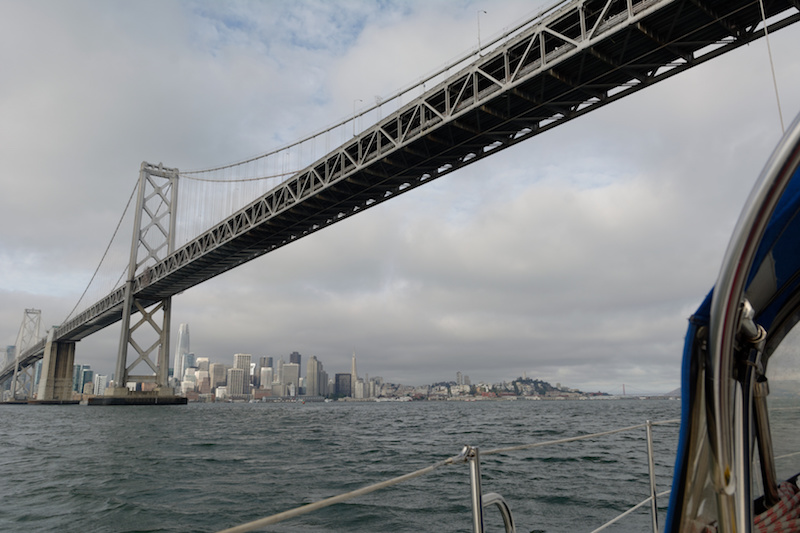 We motored out to the Golden Gate bridge, staying closer to the city front to avoid the trailing end of the flood. We crossed under the Golden Gate at 9:52am, right before slack water (9:54am). It would've been nice to time it to get a push from the ebb but this would've moved our arrival in Half Moon Bay a bit too late so slack was good enough for today.
We kept motoring west just south of the shipping channel until the R"2″ buoy. This is a bit of a detour but it avoids the south bar. On a flat day like today we could've turned south much earlier but out of habit and prudence I prefer to turn left near R"2″.
Several pods of dolphins popped in and out in the vicinity of the boat but none stayed for long.
Once we reached R"2″ it was finally time to get the main up and go sailing! The reef line managed to shake itself into a knot around the main so that took some resolving but after that the engine was off and we're sailing at about 11:30am.
Sea was flat and breeze was good, both right on forecast. One long starboard tack past the R"26″ buoy (off Pt. Montara and the Colorado Reef) and down to the RW "PP" buoy marking the entrance to Pillar Point Harbor.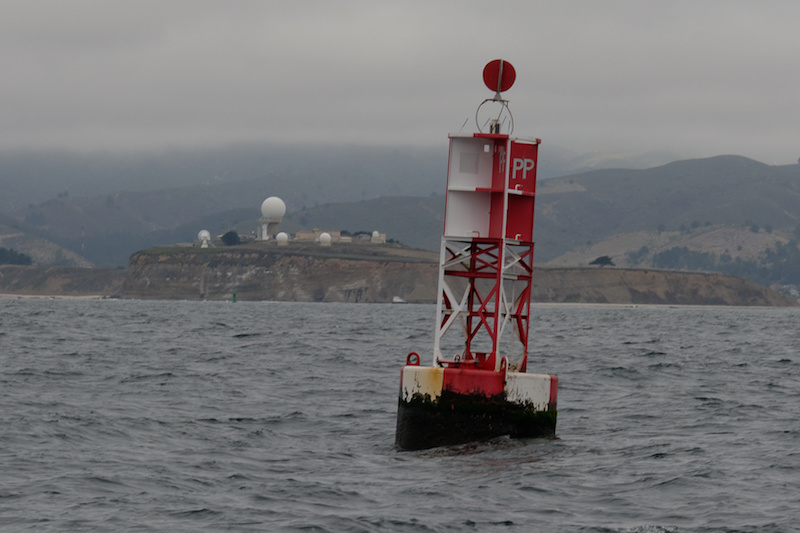 Pillar Point Harbor is perhaps best known (at least to non-boaters) as the location of the Mavericks surf break, a result of the reefs which surround this area. So it's wise to stay in the correct channel.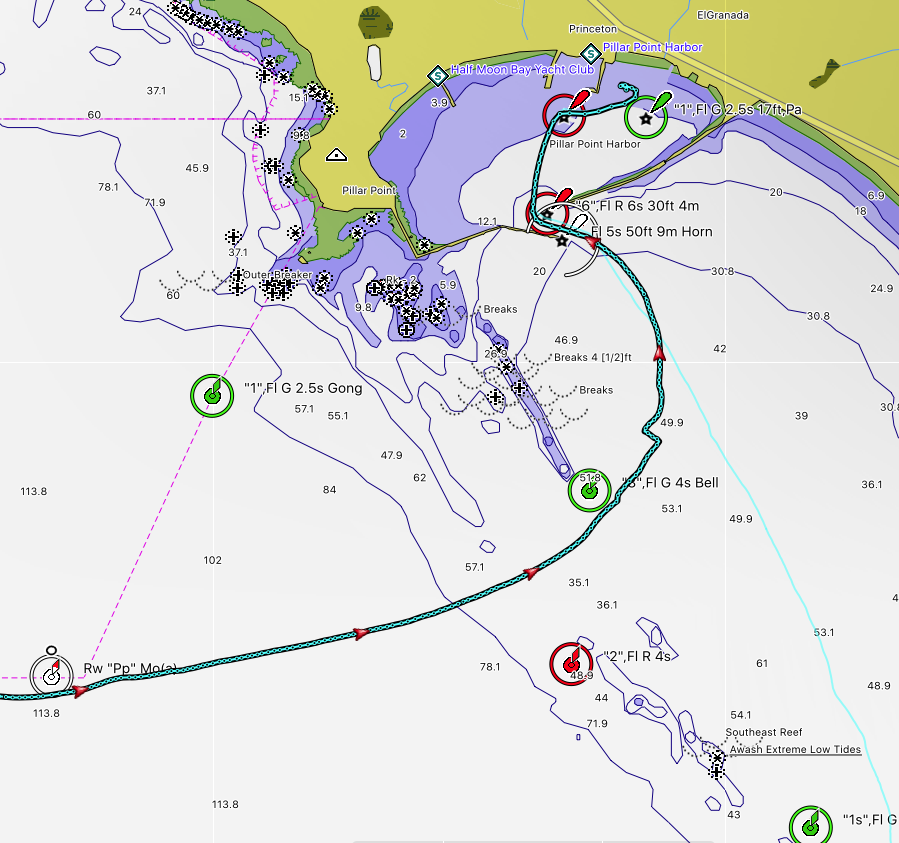 At 4pm we dropped the main after 4h:30m of sailing and by 4:25pm we were tied up at a guest slip in the harbor. Pillar Point is a busy commercial harbor so we had rather large neighbors: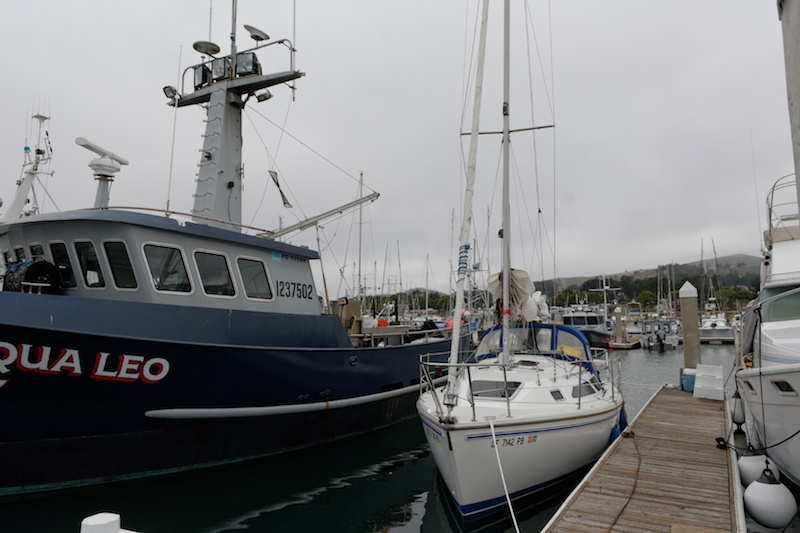 For dinner and drinks we stopped by the Half Moon Bay Yacht Club, a fun spot, highly recommended.
Summary:
Departure: 7:46am
Arrival: 4:25pm
Distance: 42.8 nautical miles
Total time: 8h:39m
Motoring: about 4h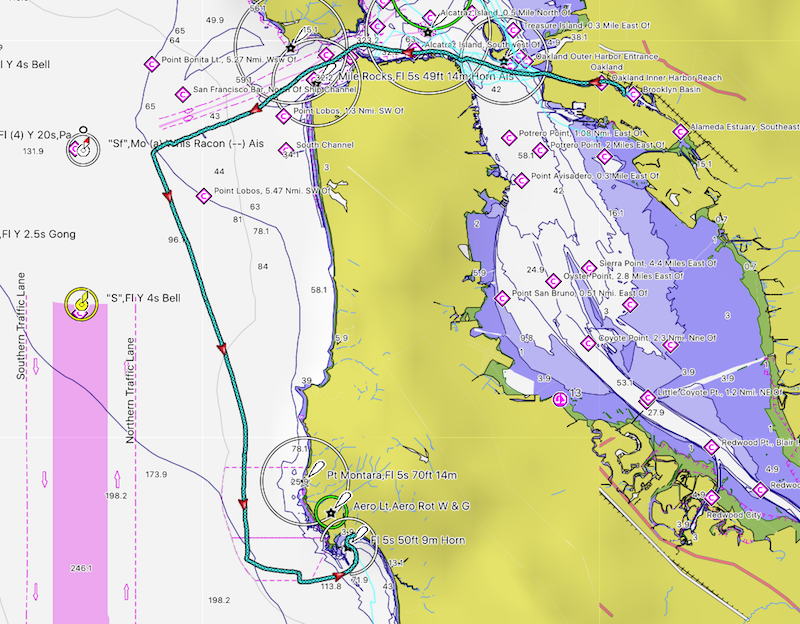 Day 2
National Weather Service Marine Forecast FZUS56 KMTR
Point Reyes To Pigeon Point To 10 nm-
FRI NIGHT: NW winds 15 to 25 kt. Wind waves 3 to 5 ft. NW swell 4 to 6 ft at 10 seconds.
SAT: NW winds 20 to 30 kt. Wind waves 4 to 6 ft. NW swell 6 to 8 ft at 10 seconds.
According to the forecast the wind was going to blow all night and increase to as much as 30 kts during the day. The trip to Santa Cruz is down wind and with the swells on the stern so I wasn't worried about the wind but still, was hoping for closer to 20 than 30. As it turned out, this wind forecast was quite a bit off from reality.
We cast off at 7:11am and motored south until past the G "1s" buoy and then hoisted the main at 7:55am. There was very little wind though (where is the 20-30kts?) so we kept motoring for a long time. The flapping of the main became annoying after not too long so I rigged a preventer and we kept it on for the rest of the trip. Much better!
The swells were perfect and only got better through the day. First on the starboard quarter and then right behind us as we turned near Pigeon Point, we spent all day surfing down the coast.
Between Half Moon Bay and Pescadero we saw a number of whales traveling in many groups. They all seemed to be congregated in this area as we didn't see any further south (nor north).
I don't have the exact time but I believe we were able to shut down the engine right around noon. The wind had picked up enough that by then we managed to keep the average speed above 5 knots without the engine. Under main alone as we were going just about dead downwind, no use for the jib today (I don't have a whisker pole).
A bit further south we sailed by several Mola Molas (sunfish) sunning themselves near the surface. Always interesting to see these!
The ride down from Pigeon Point to Santa Cruz was ideal sailing, as good as it gets! Surfing down the 6-8ft swells running near hull speed for hours! Hull speed for a boat with a 24ft waterline length is about 6.5 knots and we were averaging 6.5-6.7 kts in this time window:

Surfing down the swells we'd regularly hit 8 and even 9 knots. The very largest one had us hitting an astonishing 12.7 knots (SOG)!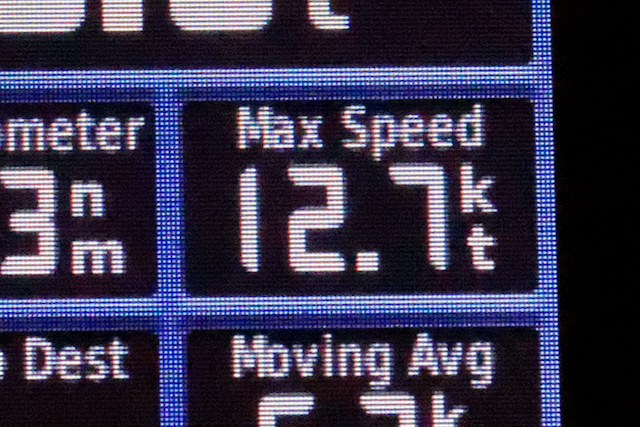 Here a couple photos of the swell at our stern about the lift the boat: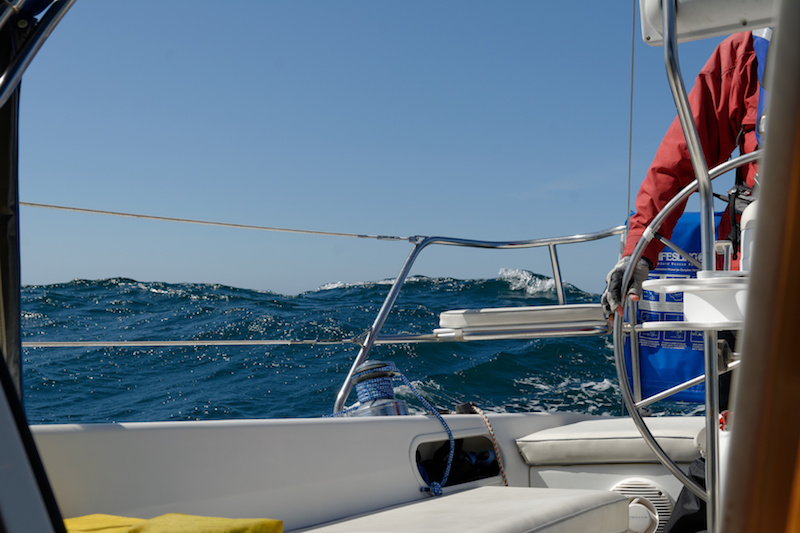 This is how much fun it was all afternoon: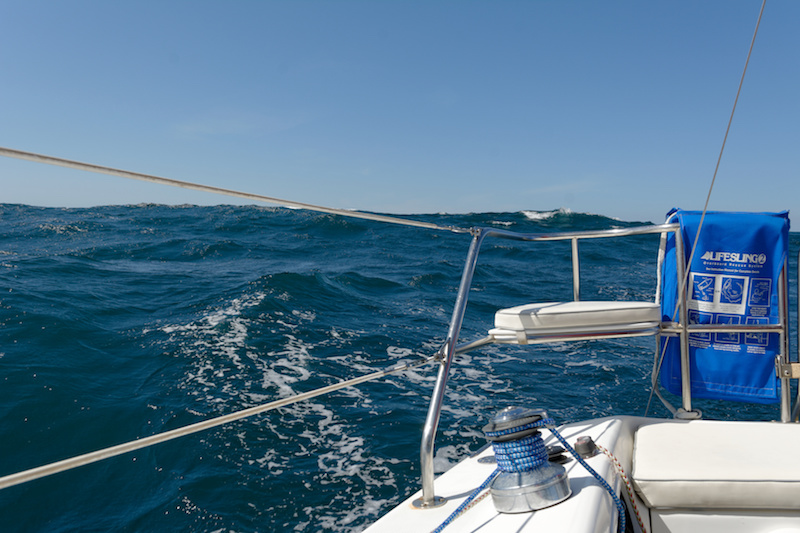 I rarely take much video because I find that it never captures the essence of the ride, whether mountain biking nor sailing, so I'm always disappointed by the result. I took a bit of video on this day hoping to capture how fun this rollercoaster ride was but as always, it falls flat. Still, here is a link to it:
https://www.youtube.com/watch?v=AvJ41kaIcAk
Right around the Wilder Ranch area the swell shut down as if by a switch and shortly afterwards the wind was gone as well. This was around 3:20pm so then we motored the rest of the way into Santa Cruz. Tied up at the dock at 4:30pm.
Summary:
Departure: 7:11am
Arrival: 4:30pm
Distance: 48.3 nautical miles
Total time: 9h:19m
Motoring: about 6h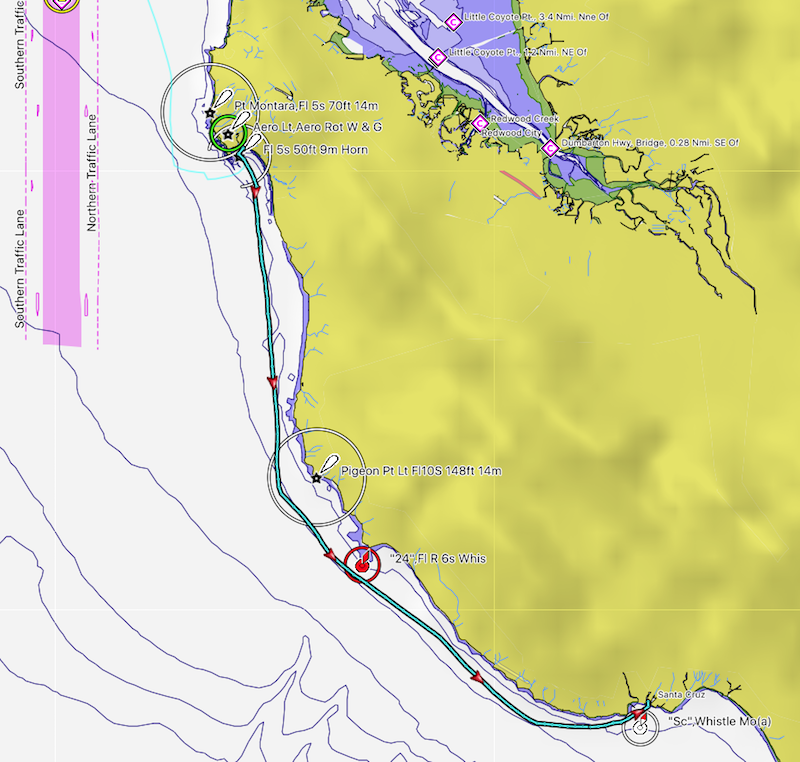 This was the first longer trip with substantial motoring I've done with this boat so I didn't have a good sense of fuel consumption yet. So here's what I observed:
At 2000rpm average speed is right around 5 knots.
At 2500rpm the average is a bit higher but not by much. Probably not worth it unless every fraction of a knot counts.
On this trip we motored just about 10 hours. Afterwards, I filled the tank with about 3 gallons so consumption was about 0.3 gal/hr.
Total distance 91 nautical miles from Marina Village Yacht Harbor to Santa Cruz Yacht Harbor.