2018-11-12
The plan for today was uncertain. Having fouled and lost the anchor in Half Moon Bay last time, I didn't want to anchor out there again. So my plan was to leave early so I could sail all the way to Santa Cruz today if necessary.
With that plan, I left Angel Island before sunrise. The tides cooperated and this allowed me to hit max ebb on the Golden Gate bridge for a fast ride out on the current conveyor belt.
NE winds 10 to 20 kt. Wind waves 2 to 4 ft.
NW swell 2 to 3 ft at 10 seconds. Areas of smoke.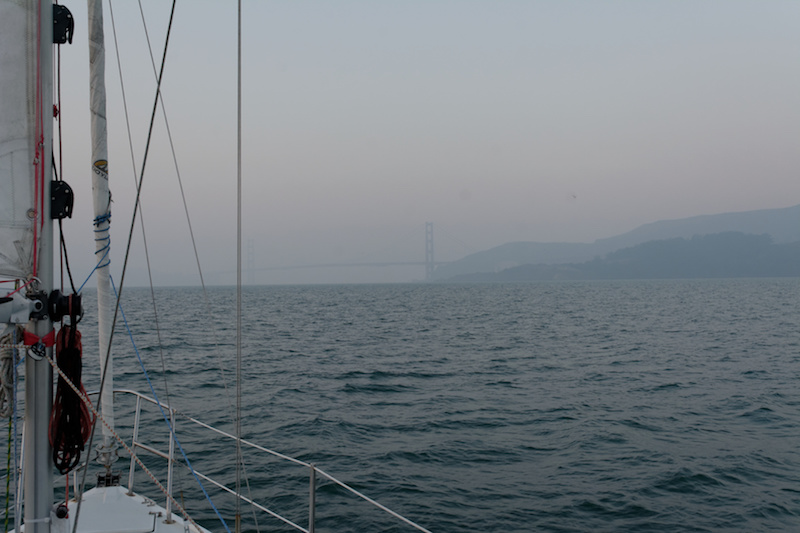 Visibility was low between the wildfire smoke and the usual fog. Made for a dramatic sunrise: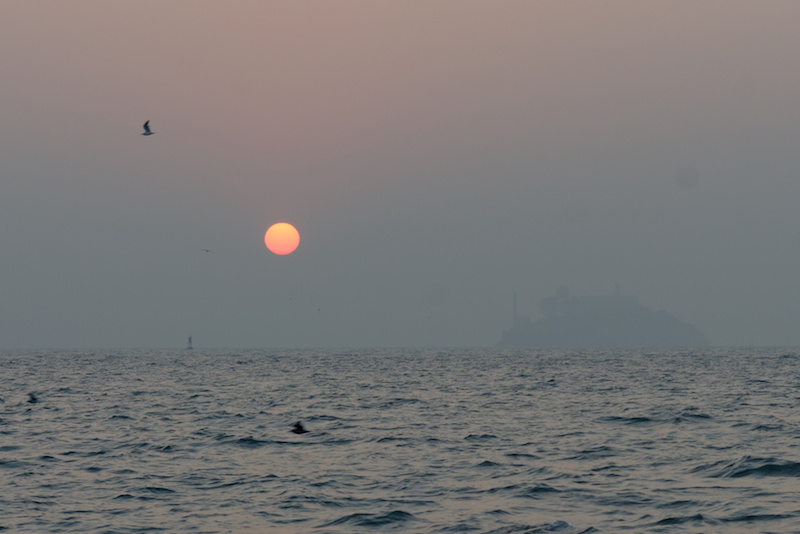 That's Alcatraz in the hazy smoke and immediately behind it, the San Francisco skyline (completely hidden in the smoke).
The ebb pushed me out the gate fast (7+ kts SOG). There is often heavy shipping traffic in this area and today was no different. Finally got some good use out of the AIS system! After passing the Golden Gate I could see on the chartplotter that a large tanker was heading in even though I didn't see the ship until much later.
The seas were very flat so I was able to cut across the south bar earlier than usual. Plenty of dolphins in this area!
Had some really great sailing for a while. Ten knots of wind from the east (very rare direction) made for a beam reach down the coast. A whale quietly surfaced just a boat-length away at one point!
After a while the winds died down as forecast. From there on it was just motor-sailing down to Half Moon Bay. Approaching the PP buoy, I called the harbor to see if any space was available. If not, I'd continue to Santa Cruz for a midnight arrival. However, this time they had some space! So I diverted into the harbor and tied off.
Total for the day: 30 nautical miles.