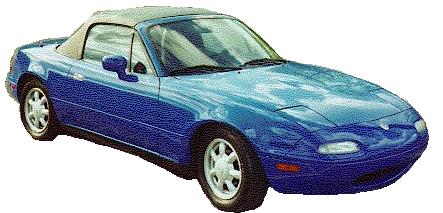 ---
The Car
My Miata is a '93 A package, purchased new. Approximately 180K miles as of last update.
---
The Details
TIRES

195/55R14 Bridgestone RE71 tires
Excellent street tire. Excellent grip, good life and predictable handling. Best value for the money among high perfomance tires. Sadly, these have finally gone out of production and there does not appear to be anything equivalent on the market.

195/55R14 Kumho V700 tires
For track use. Very, very nice.

SUSPENSION

FM front shock brace
Makes a surprising difference in turn-in and overall front stiffness.

Ground Control coilovers with Eibach springs.
This is a very nice setup, currently on car. After several years of use and many track events I can now confidently say this is the ultimate street'n'track Miata setup. Once properly set up, I can't find any faults. A fair amount of detail is available on my Ground Control setup page.

Koni Sport shocks.
On the car with the coilovers. Relatively soft compression damping retains acceptable street ride while rebound can be adjusted for the stiffer springs. There are better shocks, but these are as good as I'm looking to pay for.

Jackson Racing swaybars
Good balance. Fit is not the greatest, but once you twist the end links into place it works. Center position in rear and inner position in front fit great, but using the other adjustment holes would require twisting the endlink in an axis it is not meant to be moved.

FM Springs
These were nice and I was happy with them.

Tokico Illumina shocks.
Good range of compression adjustability, I was happy with them while they lasted, though ride was pretty rough. Both rear shocks were blown by about 40-50K miles of use. Had them with the FM springs.

POWER

Jackson Racing Header
Looks great, provides a small (noticeable) power increase. I like it. Fit is good, but has developed a few leaks around solder joints.

FM Hi-Flow Cat
Nice unit, does its job fine. Only rated a two because it is not the type of part I would immediately get for a new car, but when replacement time comes around, this is the obvious decision.

Jackson Racing CAI
Not very effective. Provides no perceivable power gain at city or highway speeds. Some extra power can be felt at track speeds. Flimsy airbox kept cracking, eventually I got rid of it.

Jackson Racing catback exhaust
Looks great, but it has completely fallen apart internally in a few years. Rattles terribly. Threw it away after a few years of rattling.

M Roadster catback exhaust
Bought it to replace the JR exhaust. Very similar to JR exhaust, but solder joint seem of a higher quality and tip fits slightly better. But after a few years, it now rattles as bad as the JR. At least it lasted longer.

BRAKES

Motul 600 brake fluid
The only reasonable choice I have found. NO FADE at the track.

1.8L Miata brakes
Some increased fade resistance, slightly less effort required. Not a huge difference, but it helps some.

(Track: )(Street: ) Hawk Blue
Ultimate track pad.

(Track: )(Street: ) Carbotech Panther brake pads
These are overall a very, very nice pad. Very streetable, good grip when cold, and no fade on the track, but not the greatest grip either. Their unusal mounting method reduces the useful life of these pads though.

(Track: )(Street: ) Porterfield R4S brake pads
Very streetable, great street pad. Not too great on the track though, some fade, and they crumbled under track temperatures.

(Track: )(Street: ) Stock Mazda 94+ pads
Quite nice for the street actually. On the track, fade all day, no fun at all.

MISC

HardDog HardCore roll bar
A must, of course. Lots of fit problems, but can be resolved. I would still get it immediately for a new car.

Mobil 1 synthethic oil
A must. Completely eliminates lifter clatter both cold and really hot (at the track). I've used various grades, depending on weather and location, currently using 15W50 in California.

Manual steering conversion
Great improvement in road feel and high speed stability. Very sudden and tight transitions suffer a bit though. I would probably not do this if I still ran autox events, but I don't. For high speed track events I greatly prefer it over the power steering.

5pt racing harness
Its nice to have some real belts at the track... unfortunately the shape of the stock seat does not work too well with the harness so they are somewhat uncomfortable. I need to get a real seat with harness holes; at that time this will jump from a one star to a three star!
---
Here's a rough description of my highly subjective ratings for each modification.

I wouldn't want to live without this. If I had another Miata I would do this immediately.

These are very nice. If I had another Miata I would quite certainly do this mod, but I could live without it for a while.

It's merely ok. Since I have it, I'll keep it, but I would not buy this again. I'd be happy to get it as a gift, but I would not spend any money on it.

This was a mistake. Would never buy it again nor accept it as a gift.
---
The Numbers
Here is a page with some dyno run information.
Here is some Ground Control setup information.
Here is some bumpstop information.
Here are some gas mileage statistics.
Here are some cool graphs on camber vs. travel (and for the NC Miata).
Some info on Removing the PPF from the diff
Pics on the 200K refresh
---
Last modified: Tue Jan 29 00:03:04 2008