1999 F1 Grand Prix of Belgium

In August 1999 I attended the Spa F1 Grand Prix!! The following information might be useful to anyone considering going to the best track in the F1 calendar!!
Arrived in Belgium on Wednesday to have some extra time before the crowds arrived to find the track, the town and most importantly, some place to stay hoping to camp near the track but had no idea where or what might be available. The track is really located in Franchorchamps, not in Spa. Spa is just the larger town close by, in fact Francorchamps does not show up in many maps. The map fragment below shows the general area: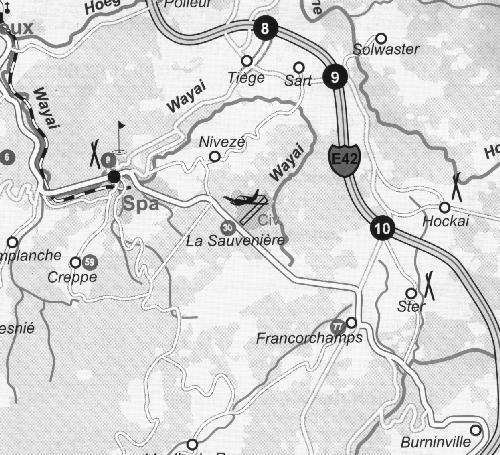 Francorchamps is a very small town, no more than the intersection of two streets, two or three small hotels, a few stores and a handful of houses. The track is just south of the town area within an easy walk through the forest. On Wednesday and Thursday morning the town was a very sleepy and quiet, but through the weekend it was a non-stop party as good as Rue Catherine in Montreal on the F1 weekend (well maybe not quite).
Amazingly, found a room in one of the hotels in town for the weekend, the Hostellerie Le Roannay, which was a nice (though rustic) "bed & breakfast"-style hotel. As could be expected on the F1 weekend, it was quite expensive. However, the stay included breakfast and dinner at the hotels excellent restaurant. Furthermore, it turns out that several of the teams were staying at this same hotel, which made the stay quite interesting! Every night at the hotel dinner I saw Jean Todt and the Ferrari team, Eddie Jordan with his team, as well as Bernie Ecclestone. The drivers did not attend these dinners ;-( although we did see Mika Salo in the hotel backyard as well. It was an interesting experience to have dinner with all these teams, while the crowds outside on the street waved flags and tried to catch a glimpse of the celebrities within ;-)
I sat at the Raidillon grandstands, just up the hill from Eau Rouge. The composite picture above is the view from these Raidillon grandstands (Gold 2). The grandstands are not numbered seats so even with these tickets it was important to arrive really early on Sunday (I was in line before 6am and still not able to get top row seats).
---
Last modified: Wed Jul 12 17:51:46 2000