SOLD!! 2001 Colgate 26 (Santa Cruz, CA)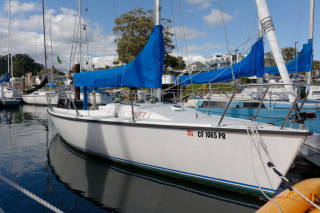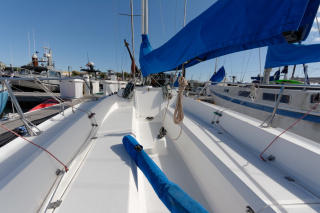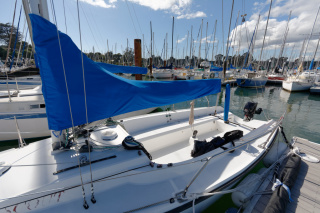 Highlights
New engine, new spinnaker, nearly new main+jib, upgraded hardware, very clean and dry boat! I don't think you can find a nicer Colgate 26 (even if you buy new it'll need a few ugprades).

I am very regretfully selling my wonderful and fun Colgate 26. She needs nothing!

I have owned this C26 since 2007. I've upgraded everything that I felt could use upgrading and fixed everything that wasn't right. This is not a project boat, you get a turnkey boat that is ready to go daysailing or racing right now.

The Colgate 26 is huge fun to sail and yet very forgiving. A light and responsive boat. Read all the reviews online. It is a perfect daysailor, with a huge cockpit to take all your friends. But it is also a very easy boat to singlehand (I sail singlehanded most of the time).

I don't really want to sell it but with a young son, I'm at a phase where I'm looking to trade this "sports car" for a minivan-of-boats. That is, I'm moving to a more cruiser type sailboat with all the comforts of home (but not as fun to sail) to take the family and spend weekends on the boat.

More details and pictures below. Feel free to ask anything I might've missed.

Note: On all of the pictures on this page, click on the image for a much larger version of the photo.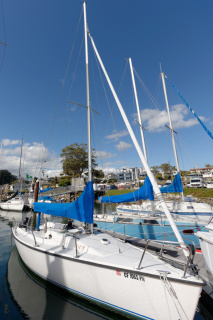 Sails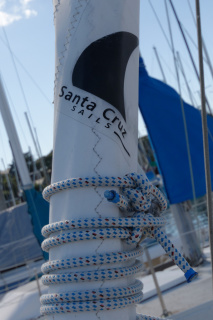 New Santa Cruz Sails Main (with 2 reef points + cunningham) and Jib (with vertical battens) purchased summer of 2014. Both still in almost-new condition (nice and crispy), not many hours of daysailing on them, no races.
(A bit of trivia: Santa Cruz Sails became an Ullman Sails loft in 2014, so these are some of the last sails they made still branded "Santa Cruz" instead of Ullman. A collectors edition ;-)

A new unused Spinnaker. Never been hoisted. Associated gear (spinnaker pole, lines, blocks) also unused in brand-new condition. (I single-hand nearly always or sail with inexperienced crew, so haven't used the spinnaker. I've kept it in the garage nice and dry.)

Also included are two sets of older sails (two mains, two jibs). These are not in great condition, relegated to the garage storage for backup. But all four still work ok, will get you out for a daysail in a pinch if the primary sails need repair some day.

Rigging
All the running rigging (except halyards) replaced new in 2012. High quality lines throughout, nothing low end.

New lifelines, installed 2015. Uncoated wire as per current standards.

3 halyards (jib, main, spinnaker).

Roller furling jib (Harken furler, twin grooves).

I upgraded all the mainsheet blocks as well as the traveler track and car with slightly over-sized (compared to factory) Harken parts. Because I single-hand most of the time, I wanted a main that I could easily trim in any wind with one hand while steering with the other hand.

New Garhauer rigid boom vang and associated block/line. The C26 comes with this from the factory but the previous owner had let it rust and it wasn't moving freely so I replaced it with a new unit. I also have some spare springs for it, in case it needs future maintenance someday.

Harken 16 self-tailing winches. Lightweight handles.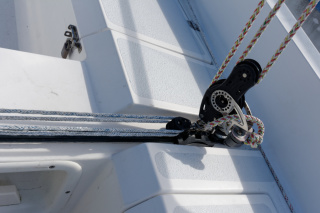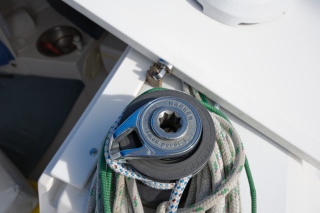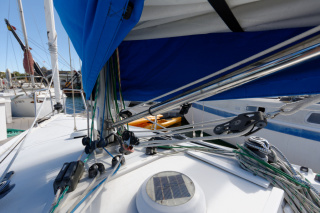 Electronics
I installed a new Standard Horizon VHF with DSC and an AIS receiver for the latest in safety.

A Garmin GPSmap76 (with marine buoy data) is permanently installed, as a "mini chart plotter". It is also wired to the VHF for position data so the DSC distress calling has location.

I installed a new Blue Sea electrical panel with 8 switches (3 still unused for future expansion).

I upgraded the battery to a Group 30. This is overkill (by far) for the current electrical needs of the boat, but I was planning on installing an autopilot so wanted extra capacity available.

I installed a marine battery charger for convenient charging.

Port and startboard navigation lights upgraded to LED for reduced power consumption.

I added a solar charge controller and a connector on deck for a solar panel. I have a small solar panel which I plug in while docked to keep the battery topped up.

Installed a 12V outlet for charging phones, handheld radios etc.

Everything is properly fused, marine wiring, crimped, etc.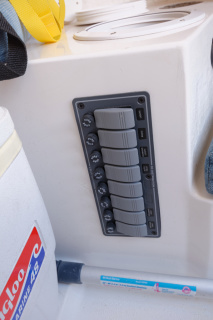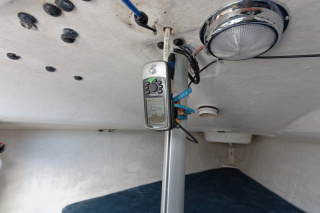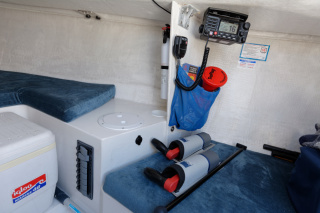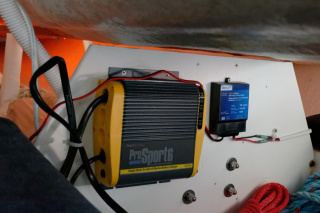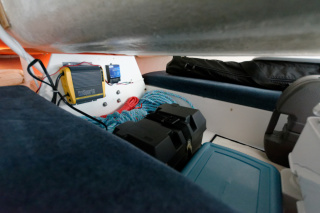 Engine
NEW

Tohatsu 6hp extra-long shaft outboard (purchased summer 2015, less than 5 hours on it). The C26 comes with a long-shaft outboard but even that one comes out of the water (at least in the bumpy Santa Cruz swell) so I replaced it with this extra-long shaft motor, no more cavitation.

I followed the break-in process carefully, changing the oil after each phase.

This engine even has an generator which can be used to charge the boat batteries while it runs. I don't really need that so I have not hooked up the wiring, but it is included.

New gas tank as well.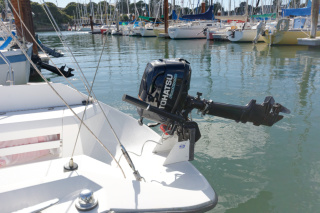 Pumps
The C26 comes with a manual bilge pump, still works well.

It did not have an electrical bilge pump, so I added a 4.3 gpm self-priming pump with a water sensor switch (there is no room for a traditional float switch in the bilge but this is also nicer because it has no moving parts) and a manual/auto switch.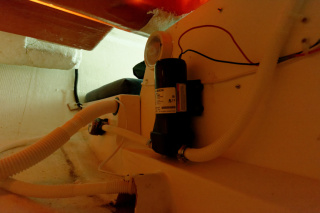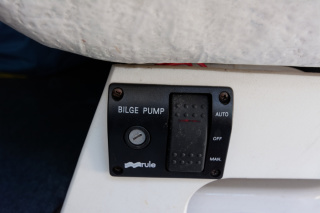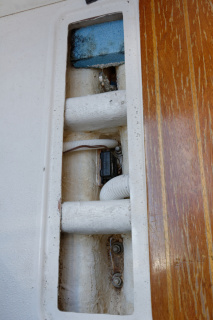 Anchor
Forstress FX-7 anchor.

I bought a new chain and new rode for the anchor for safety. I never anchor so it has never been in the water.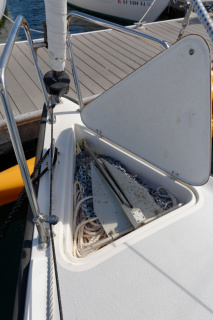 Interior
I installed two solar fans to keep air moving and the boat dry. One above the V-berth and one in the hatchboard.

I also made a separate hatchboard without a fan, which I use while sailing to keep the interior dry from spray. I found that the lines tend to catch the fan, which explains why the original fan was broken when I bought the boat. So I replaced the fan and made a new board to avoid the problem again.

The interior technically sleeps 4, though I wouldn't try it. The V-berth is fairly large but doesn't have much headroom. The two quarter berths are long and comfortable and have a lot more room, they are practical for sleeping.

I have the (optional) cushions for V-berth and quarterbeths.

There is a sink with a manual pump and there is a small water tank, although I've never used it.

There is a cooler for storing water and drinks.

There is a port-a-potty. Never been used!

The boat inside is dry, dry, dry! That isn't so common for a Colgate 26 as they have lots of tiny but irritating leaks. I have chased down and fixed

all

of them, so this boat is 100% dry inside.

I installed a large LED interior light, has white and red light (red for night vision). Bright and energy efficient.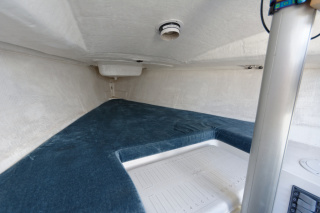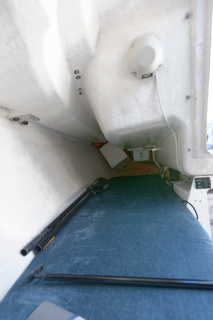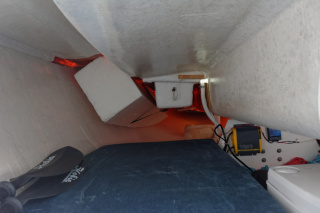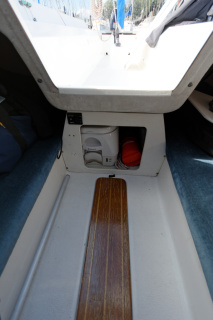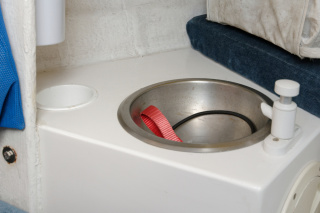 Negatives?
The only known-to-me negatives are:

The anchor light and steaming light bulbs are burned out. I don't sail at night so I haven't fixed these. Normally I fix everything even if I don't need it, but I have no way to climb to the top of the mast so I've been unable to change these bulbs.
The mainsail cover velcro is worn and doesn't stick too well.
Small nicks and scrapes here and there.

Sisterships
Here is a link to all Colgate 26s for sale on yachtworld for price comparison: http://www.yachtworld.com/boats/category/type/Colgate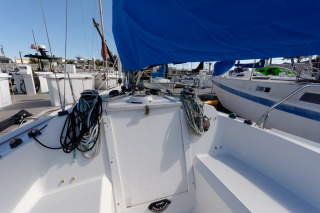 Other Links
BoatUS review
Colgate 26 promotional video
Sailing magazine review (J. Kretschmer)
Jim Taylor design link